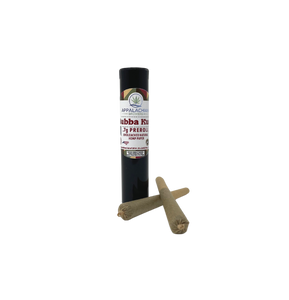 Rolled with USDA Organic hemp flower and organic unbleached hemp paper
Each pre-roll is .7 grams 
Bubba
Kush
66 contains scents of chocolate, coffee, earth, citrus and in some cases, burnt rubber or diesel fuel. These scents combine to make a complex terpene profile. Vigorous growing plants with deep emerald green foliage; flowers are dense and laiden in trichomes which reflect its rich medicinal properties. Green flowers all the way through maturity unless a drop in temperature, which brings out hughs of purple. The loud aromas of this particular cultivar ensure the plant stays resistant to pests while its genetic lineage gives it a high tolerance to fungal and bacterial infections. 
     Non-psychoactive
For adult use only
Fully compliant: contains less than 0.3% Delta-9 THC
For information regarding COAs & Drug Testing, please visit our

FAQ

.