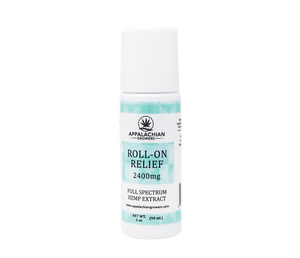 A collection of topical hemp infused products where CBD stands for Care, Bliss, and Delight.
Feel the relief of our 3oz. 2400mg hemp infused Sport Roll-On. Whether you are looking to soothe sore muscles or simply wishing to relieve stress, the blend of our USDA organic hemp and natural essential oils known for their powerful calming properties will help you relax and delight in your skin.
Full Spectrum: Our products contain the hemp plants' cannabinoids and terpenes, producing an entourage effect that enhances your overall wellness.
Less than 0.3% THC: No high - so you can rest stress-free.
USDA Organic hemp: Our spa collection is crafted with our own USDA Organic hemp, which we grow on our farm in Franklin, NC.
3rd Party Lab Tested: Our products are legal and compliant, so you can relax and enjoy the bliss that full spectrum hemp can offer you.
Ingredients: 2400mg full spectrum hemp extract, Ethanol, water, methocel, camphor, peppermint, menthol